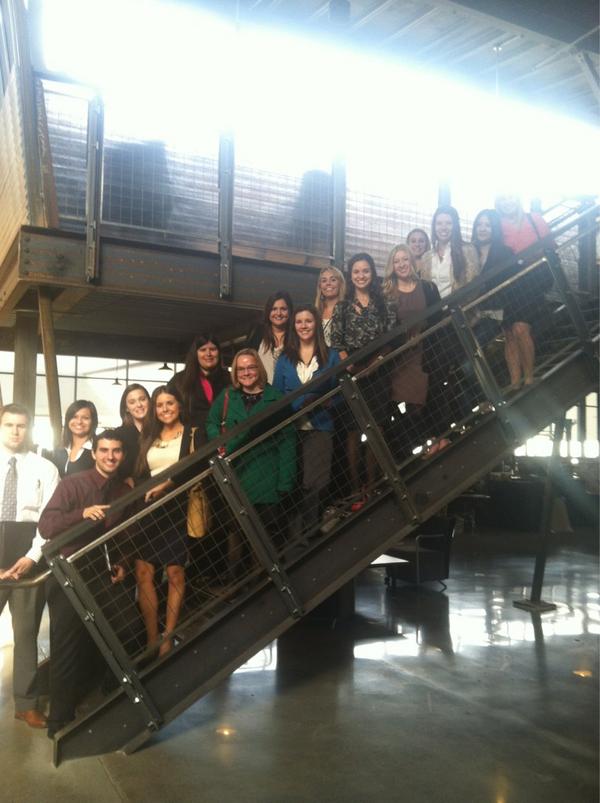 By: Kristie Chipera
Walking through show rooms, tasting some of the food featured in Better Homes and Gardens, touring agencies and sitting down with advertising and public relations professionals is an experience not granted to many preparing to enter into this industry.  However, the opportunity to do so was granted to the University of Iowa's PRSSA members and was just one of the many advantages students from the organization were able to experience this past semester.
Sixteen PRSSA members seized the chance on November 9 and traveled to Des Moines to visit five of the top public relations agencies in the area.  These agencies included Innova Ideas and Services, Two Rivers Marketing, Flynn Wright, Hanser and Associates Public Relations, and The Meredith Corporation.
"You are all lucky to visit so many agencies.  I had no clue what an agency was when I started as an intern," said Jessica Moffitt, account service representative at Two Rivers Marketing.
With bagels in hand, the day started out at Innova Ideas and Services.  The agency, whose portfolio includes the Fight Like a Girl brand, also specializes in crisis communication and issues management.
"Whether you're in PR or marketing, you can no longer talk at your audience.  You have to talk with them," said Nicole Torstenson, director of strategic marketing and public relations at Innova Ideas and Services.
PRSSA members saw a presentation that tackled topics such as the ways Innova stays ahead of the game by preparing for a number of possible scenarios that their clients may encounter. Each situation is assigned a detailed strategy outlining the best response for crisis communication. The presentation was followed by a tour of the agency's modern space before heading off to the next company.
Two Rivers Marketing makes its home in a 32,000 square foot industrial style building, originally constructed in 1935 as a General Motors parts warehouse.  Many of their clients are largely industrial based and unlike many other agencies, Two Rivers Marketing has a space that offers a symbolic connection to their clients, such as John Deere and Vermeer.
Their workspaces group staff by the clients they work with, separating pods by distance, rather than walls.  The employees truly do immerse themselves into their clients' businesses and their products.  They know the importance of being knowledgeable of their clients and are aware that while maintaining their clients' social media accounts, they must become experts in the company and its products, as well as the industry.
PRSSA members learned just how dedicated the employees are to their clients, going as far as learning the trades first-hand by taking classes and even learning how to operate their clients' machinery.
PRSSA stopped next at an agency whose large glass paneling overlooks Des Moines' Sculpture Park.
Flynn Wright is a small agency.   Its size allows their employees, who all bring something different to the table, to grow individually while relying on each other's strengths to move the company forward.  With clients, ranging from Dunkin Donuts to Mediacom, one of the agency's primary objectives is to research the best ways to reach a client's customers.
After a tour and overview of the modern and colorful agency, students were left with a bit of reassuring advice before heading to the next company.
"Don't feel like you need to have all the answers," said Mara White, director of public relations.
Flynn Wright may qualify as a small agency, but across the city, Hanser and Associates took the prize for the smallest company of the day.  The family-run firm may have just six employees, but it is Iowa's leading public relations firm and has taken the "Best" or "Runner-up" awards as "Best Public Relations Firm" in Central Iowa for 11 years standing.
They handle between six to 12 clients at a time and concentrates largely on healthcare and financial services, although Megabus is one of their largest clients.
Back across town at the last tour of the day, PRSSA members were able to get a rare behind-the-scenes look at the Meredith Corporation.  It is the leading media and marketing company serving American Women whose publications include Ladies' Home Journal and Better Homes and Gardens.
The tour included walking through halls covered with a timeline of the many magazines of Meredith Corporation, stepping into their model kitchen, peering into showrooms, and even sampling food baked and photographed for a magazine spread.  Students were in awe, not only of Meredith's large building, but the vast number of props and sets within the facility to be used throughout the year for different photo shoots.
The experience was one not to be forgotten.  "Company Tour let me see how the integrated marketing industry truly works. Listening to speakers at chapter meetings can only get you so far. Sometimes, you have to go to where the action is to get the big picture," said PRSSA member, Regina Volk.  It was a lot to take in for one day, but the madness was absolutely worth it.